Featured Item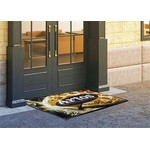 3'x5' Waterhog™ Impressions HD Floor M...
The Waterhog™ Impressions HD offers a high definition print with a water dam border that will trap dirt and moisture. 3' H x 5' W x 5/16" Thick
$184.36 - $353.00
Welcome!
850,000 logo'd promotional products !!!
Increase your company or personal visibility with more or better "BRAND AWARENESS" by having your logo placed on thousands of imprinted products. We can offer you the capability of having your slogan embroidered, silk screened, etched, engraved, lasered, hot stamped or printed on just about any items that you desire.
In our website, you will find over 850,000 products to choose from which can be used to:
• Increase Sales
• Marketing
• Employee Recognition
• Customer Appreciation
• Awards
• Incentive Programs
• Staff Apparel
• Team Uniforms
Just click on the word "SEARCH" to the left. This will take you to the "PRODUCT SEARCH" area of our web site. Press the down arrow next to "CHOOSE A CATEGORY". This will give you a list of over 1,000 different logo'd items by category. Simply highlight the category (which will then light up in blue in the "CATEGORY" box). After you have selected your category go down to the round "SEARCH" button and click on it. A start search will begin and will immediately show you the various items & prices in that area of your interest. You will notice at the top of the first screen the number of products that were found in that category. If you would like a better or larger picture, just click on the picture for better viewing.
To search for another product simply press the "SEARCH" button and, once again, find the category you are interested in looking at.
You can always call us with any questions or help at (630) 213-9999. We'd be more than happy to assist you.
Enjoy your experience. You won't believe how many products you can put a name on. It's unbelievable !!
Signature Showrooms